Dr. Dan Hament
Dr. Dan Hament initially attended UVM, but finished his undergraduate degree at Colorado State University. He also attended Colorado State for Veterinary School. After nearly 10 years out west he decided to come back to New England, and worked at several veterinary hospitals both in New Hampshire and Vermont. In 1989 he relocated to Richmond to open the Richmond Animal Hospital.
In his time off you may see him riding his bicycle along the road, or even on the trails all around Vermont. He also enjoys windsurfing, snowboarding, snowshoeing, and gardening. He recently adopted a cat named Khyber. Other interests include home brewing beer, as well as enjoying many craft beers made in Vermont and New England.
---
Dr. Cori Weiner
Cori Weiner grew up on Long Island, NY. She moved to Vermont for her undergraduate degree at UVM, and it was here where she met her husband, Jim, a timber framer. She went to Veterinary School at the University of Tennessee. She started working at the Richmond Animal Hospital in 2004. She has 3 children, Brendon, Marissa and Colby, dog, Rico, and cat King Charles. Her interests include gardening and snowshoeing, and in the spring you can find her in her Sugar House, Mountainview Maple Works.
---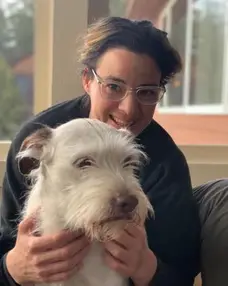 Dr. Jocelyn

Dr Jocelyn graduated from Louisiana State University School of Veterinary Medicine in 2012. She has a couple cameos cleaning and treating seabirds after the Deepwater Horizon oil spill in the HBO documentary 'Saving Pelican 895.' Before becoming a veterinarian, she spent over a decade as a writer and editor at Discover Magazine in New York City, where a highlight of her career was interviewing Jane Goodall. When she's not being a vet, Dr Jocelyn's favorite thing to do is hike around Silver Lake with her aging -- but still spry -- New Orleans street mutt, Shiner. Dr. Jocelyn was born in Ridgewood NJ, went to high school in Chapel Hill, NC and has a degree in biochemistry from Smith College in Northampton MA. She has been coming to Vermont to ski in the winter and hang out on Lake Dunmore in the summers since she was a child. She now lives on Lake Dunmore full time with her super awesome husband Alex, who didn't tell her to write that.

---
Allison Geyer – Senior Veterinary Technician
Allison is taking a leave of absence to care for her children, but still comes in occasionally to fill in and do administrative work on the weekends.
Allison was born in Vermont and has always lived in or near the mountains. She always wanted to work with animals since she was a child, growing up around her grandfather's farm.
Allison joined the Richmond team in 2006. She is currently spending most of her time with her husband Kim, daughters, cat, Big Moves, and her dog Travis.
---
Liz Adams – Lead Veterinary Technician
Liz has lived in Vermont since she was a young child. She began working with animals in 2000. While pursuing a career in the animal field, she attended the University of Vermont and studied art, which is another of her passions. She joined the Richmond Animal Hospital team in 2008. In her free time she enjoys painting, hiking, and cooking, as well as spending time with her husband, children, cat and dog.
---
Kobie Woodard – Office Manager
Kobie started working at Richmond Animal Hospital in 2007. She lives in Waterbury Center, with her husband, two children and two dogs, Buster (pictured) and Ozzy.
---
Jessi Rushford- Veterinary Technician/ Assistant Manager

Jessi originally worked for us as an assistant when she was in high school back in 2012. Her position grew into a technician as she was attending school and once she graduated as a vet tech in 2015. She also got a Bachelor of Science in Business & Technology Management in 2017 from VTC. She has been a state certified technician since 2015 and has experience in surgery and emergency medicine. Her hobbies include painting, spending time with her dogs, boyfriend and family, spending time outside and gardening.
---
Amy Englefield – Veterinary Technician
Amy has been working at RAH since April of 2022. A California native, Amy has worked in general practice, internal medicine, oncology, emergency and high volume spay/neuter. She has also volunteered for organizations that help unhoused people get veterinary care for their beloved pets. Amy is a master beekeeper and usually has between 8-10 beehives. Amy and her twin boys have a dog, a cat, a bearded dragon, three hermit crabs and an aquarium full of fish.
---
Kaylee Minnella – Veterinary Technician
Kaylee joined the RAH staff in 2022. Kaylee recently moved to Vermont from Florida, and is enjoying the cooler temps! In her free time she enjoys painting, drawing, skateboarding, hiking and spending time with her partner and pets.

---
Kariann Wolfe - Receptionist
Kariann joined the RAH staff in the spring of 2021.

I have always had a strong passion and desire to work with animals, I used to play doggy daycare when I was younger dreaming that someday I'd be making a difference in real animals' lives somewhere along the way! I'm originally from Hershey PA but have lived in Vermont since 2008. I have two very spoiled pets Finn and Louise who never fail to keep me on my toes. In my free time, I enjoy outside adventures with Finn and hanging out with my beloved family.

---
Zoe Lefebvre

Zoe started working at RAH in the summer of 2022. Zoe attends UVM and is majoring in Animal Science. She enjoys spending time with her roommates and kittens.

---